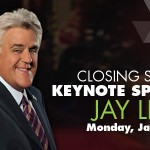 Acclaimed late night TV host Jay Leno will give the closing session keynote address at the American Farm Bureau Federation's 96th Annual Convention and IDEAg Trade Show in San Diego on Jan. 12, 2015.
Leno, an admired stand-up comedian, is also a best-selling children's book author, TV and movie voice-over artist, pioneering car builder and mechanic, and philanthropist. He has been widely characterized as "the hardest-working man in show business."
"We are excited to have Jay Leno as one of our keynote speakers," said AFBF President Bob Stallman. "We will be considering some very important policy issues during our time in San Diego, so it will be nice to take a break from the business at hand and share a lighter moment with Jay Leno."
Leno's late night television ratings domination has included hosting more than two decades of "The Tonight Show with Jay Leno," during which the show was a quarterly ratings winner for 19 consecutive years. While he was host, the show was honored by the Television Academy with an Emmy for Outstanding Comedy, Variety or Music Series. "The Tonight Show" has also been honored as Favorite Late Night Show in the annual TV Guide Awards as determined by voting viewers.
Any one planning to attend, or having any questions about the convention should contact Liz Thompson in our office.