Women's Leadership Committee
2022-2023 Executive Committee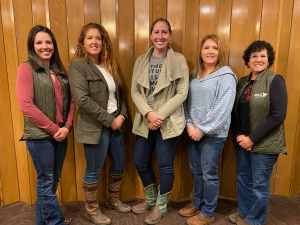 Pictured from left: 2022-23 Executive Committee:  Rachel Sickler, Second Vice Chair; Ashley Reese, Current Chair; Danielle Wainwright, First Vice Chair; Sissy Mayhew, Secretary; Caroline Etsch, Immediate Past Chair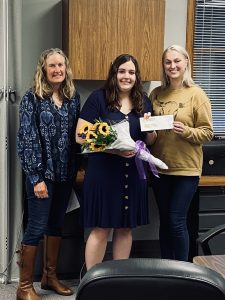 2023 Beth Pool Memorial Scholarship Recipient
Megan Brooks is graduating from Salem County Vocational/Technical School and attending Delaware Valley College with a proposed major in Dairy Science to pursue a career as a Veterinarian.  Megan has been employed with GlenElla Dairy for the past two years.  She has grown through this job, and has developed a passion for the dairy industry.  
Megan's quote "I hope to be able to make a difference in the agricultural community throughout my lifetime."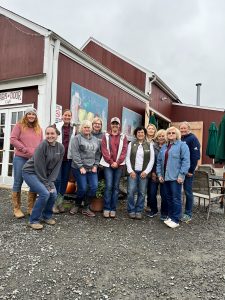 November 2022 meeting at Terhune Orchards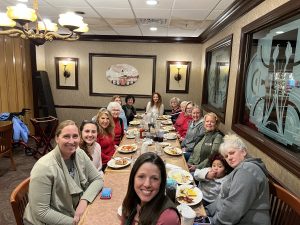 Group photo of NJFBWLC members at our December meeting
2022 NJFB Women's Leadership Committee Woman of the Year  – The "Woman of the Year" award is presented by our Women's Leadership Committee annually. This year we honored Mary Lynn Shiles. Mary Lynn is a strong advocate for NJ agriculture. Mary Lynn is a long-time director of NJFB and represents the Gloucester County Board of Agriculture. She and her family own and operate a fruit and vegetable farm in Mullica Hill and West Deptford, NJ. Mary Lynn and her daughter, Erica run their 2 farm markets under the name "Grasso Girls". Her advocacy has been through her participation as a county board president, many committees of that board, and as director on the NJFB board. She also participates with the NJ Department of Agriculture and NJ Agricultural Society on their programs and promotions. Mary Lynn has achieved all of this while battling health issues this past year. Her strength, passion for her industry, and persistence will help her to be a successful farmer and continued advocate in the future.
Click here to see a gallery of older NJFBWLC photos.
Click here for information about and an application for the Gladys "Beth" Pool Memorial Scholarship.
Farm Bureau Communication Bootcamp – Past attendees of the Farm Bureau Communication Bootcamp  discuss what they learned by participating in the program.
Danielle Wainwright – Listen to Southampton farmer Danielle Wainwright as she talks about farming in New Jersey, and her family's farm operation with Rob Sharkey, known as the SharkFarmer, on his daily radio show on SIRIUS XM RuralRadio channel 147.

---
---
Board Members
BURLINGTON COUNTY
Olyvia Evanko
Barbara Shinn
CUMBERLAND COUNTY
GLOUCESTER COUNTY
Tracy Duffield
Machaela Pool

HUNTERDON COUNTY
Shirley Bond
Darcy Perehinys

MIDDLESEX COUNTY
MONMOUTH COUNTY
SALEM COUNTY
Melanie Richman
Talia Priore

MEMBER-AT-LARGE
HONORARY MEMBERS
Jo-an' Van Doren Beck
Jane Brodhecker
Gladys Earnest
Virginia Gantz
Vilma Hockenbury
Diane Rea
Joy Ricker
Marilyn Russo
Vicky Zeng